Technology-Enhanced Learning Grant for Intro to Language
---
The Department of Linguistics received a grant from Georgetown University's Initiative on Technology-Enhanced Learning (ITEL) to explore the use of online materials in the Department's long-standing survey course, Introduction to Language (LING001) .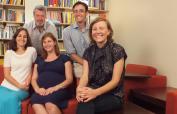 A team of faculty and graduate students, led by Dr. Jeff Connor-Linton, is embarking on a two-year study that aims to restructure LING001 by "flipping the classroom." LING001, which covers a wide range of topics in Linguistics, typically involves many teacher-fronted class sessions. In this study, the researchers are developing online lectures and activities aimed at moving some of the knowledge-building activities out of the classroom, leaving room for more interactive class sessions and allowing students to develop a more in-depth understanding of concepts in Linguistics, and to apply these concepts and analytic skills to real-world issues.
The team of faculty and graduate students involved in this study has extensive experience in education research related to language teaching and assessment. Over the course of two-years, they will not only develop materials for technology-enhanced learning, but also evaluate these pedagogical innovations in an experimental study using a treatment-control design. Materials will be refined based on the results of the study, with a goal of sharing experiences and templates with the wider Georgetown community. 
---