Alzheimer's and the Arts
---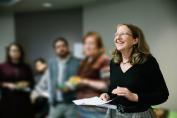 Professor Heidi E. Hamilton has spent her life in linguistics exploring the interrelationships between language and a variety of health care issues and contexts. Her early work on Alzheimer's disease, as most fully represented in her book Conversations with an Alzheimer's Patient: An Interactional Sociolinguistic Study (Cambridge University Press, 1994), is generally recognized as the first work in the area of language and Alzheimer's disease to depart from the clinical paradigm with its experimentally-elicited data to examine naturally occurring discourse within everyday interactional contexts.
More recently she has become fascinated by the ways in which linguistic discourse analysis can illuminate possible therapeutic effects of community-based arts programs for individuals with early Alzheimer's disease. She has shared her work on creativity and dementia at conferences and workshops around the world, including: Communication in Institutionalized Elderly Care: Cross-Cultural Perspectives workshop in Tokyo, Japan; the 2nd International Clinical Linguistics Conference in Madrid, Spain; the Tenth Interdisciplinary Conference on Communication, Medicine & Ethics (COMET) in Trondheim, Norway; Language Use in Later Life: International Research Workshop CLARe 2015 in Louvain-la-Neuve, Belgium; The British Society of Gerontology 45th Annual Conference in Stirling, Scotland; Encounters in Language and Aging Research: CLARe3 International Conference in Berlin, Germany; meetings of the Dementia, Language, Interaction and Cognition Network (DELIC) at the Center for Dementia Research in Linköping, Sweden; annual meetings of the American Association for Applied Linguistics (with co-authors Marta Baffy and Adrienne Isaac); and a workshop on Language and Aging at the Summer Institute of the Linguistic Society of America in Ann Arbor, Michigan.
---
Publications of this work include:
Hamilton, Heidi E. forthcoming. Language, Dementia and Meaning Making: Navigating Everyday Challenges of Epistemic Understanding and Face. London: Palgrave Macmillan.
Isaac, Adrienne and Hamilton, Heidi E. forthcoming. Access and epistemic authority in question-answer sequences between museum guides and visitors diagnosed with dementia in an art museum. In Camilla C. Lindholm and Annette Gerstenberg (eds.), special issue of Linguistics Vanguard on language and aging.
Isaac, Adrienne and Hamilton, Heidi E. forthcoming. Language, dementia and meaning-making in art galleries and homes: Objects of joint attention as resources for transforming knowledge, building topics and lifting spirits. In Trini Strickle (ed.), Learning from the Talk of Persons with Dementia: A Practical Guide on Interaction and Interactional Research. London: Palgrave Macmillan.
Hamilton, Heidi E. and Baffy, Marta. 2014. Preparing for performance: Identity shaping through script editing in an early memory loss support group. In Robert W. Schrauf and Nicole Müller (eds.), Dialogue and Dementia: Cognitive and Communicative Resources for Engagement, 213-244. New York: Psychology Press.
Hamilton, Heidi E. 2011. At the intersection of art, Alzheimer's disease, and discourse: Talk in the surround of paintings. In Peter Backhaus (ed.), Communication in Elderly Care: Cross-cultural Approaches, 166-192. Continuum.
---