Research Facilities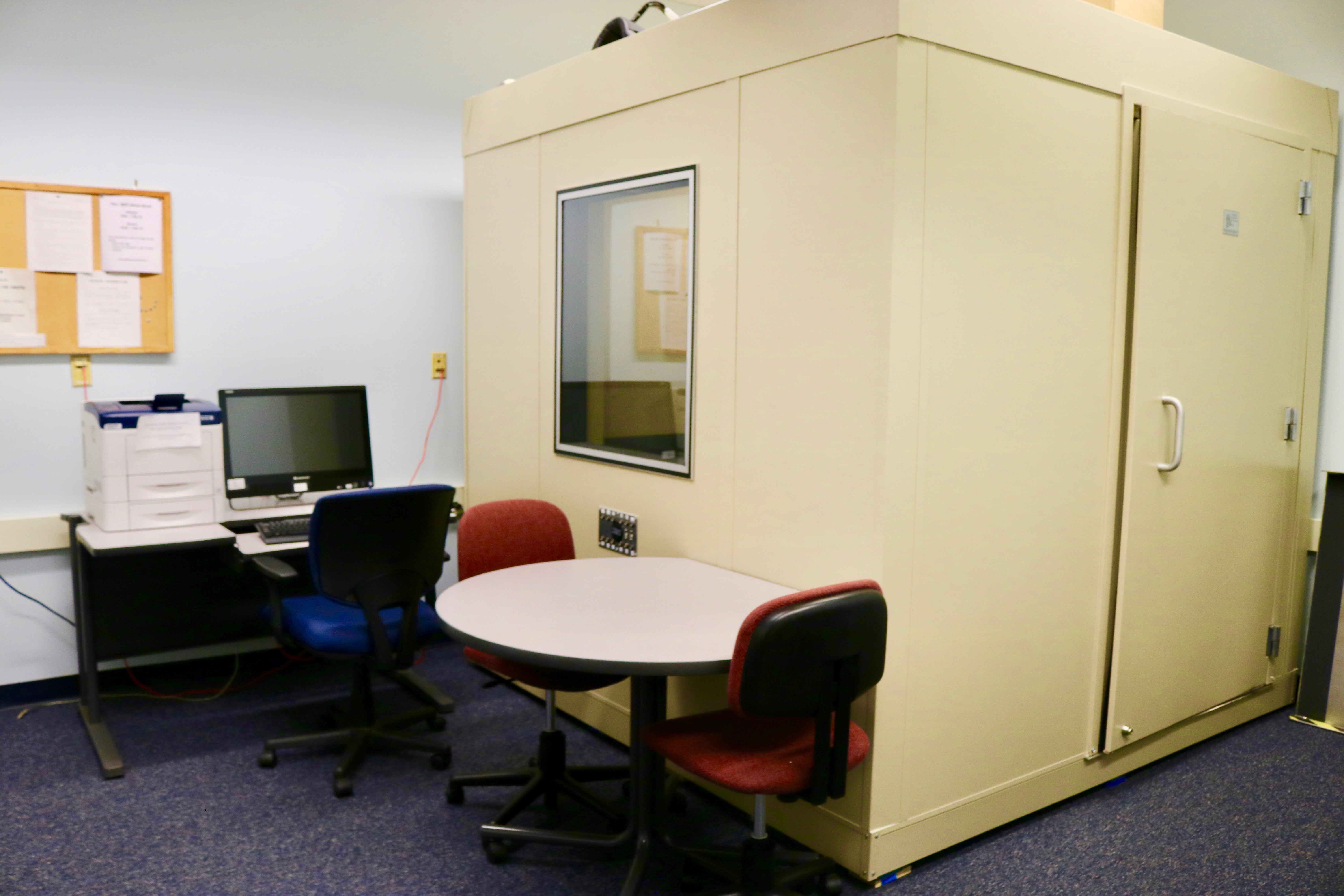 To access the linguistics lab website, please click here.
---
Lab Use and Policy
Access to the Linguistics Lab Spaces is reserved for the Linguistics students, faculty researchers and those taking classes in the Linguistics Department. The labs are accessible 7 days a week during ICC building operating hours. They are available for use when not reserved for classes.
For more information on requesting equipment and reserving lab space, please email the ling lab assistant.
---
Lab Spaces
There are several lab spaces in the Linguistics Department, which are located on the 2nd floor of the Bunn Intercultural Center (ICC). They include:
Linguistics Lab (ICC 201)
The Linguistics Lab provides faculty and students with access to a wide range of audio and video recording equipment, analysis software, stimulus presentation software, and other computing and printing resources. The lab has 3 computers, a sound attenuated booth, and is available for students to study and collect data. This lab can also be reserved for classes.
Data Acquisition Lab (ICC 233)
The Data Acquisition Lab provides facilities for phonetics and phonology research, as well as for conducting single or small group experiments or interviews. It also has stimulus presentation software for designing and running psycholinguistic experiments. This lab has 3 computers and may be reserved for data collection.
Observation Classroom (ICC 204a)
The Observation Classroom is equipped with two cameras, an omnidirectional ceiling microphone, and lavalier microphones, and connected to computer and video capture facilities in the Linguistics Lab to allow easy audio/video data collection, duplication and digitization. The Observation Classroom is designed for classroom research, or any other research in group processes. The Observation Classroom can be used for classroom teaching practica, and more generally to record the teaching of any class for subsequent analysis.
The access codes for each lab can be obtained by emailing the ling lab assistant.
---
Ling Lab Assistant
Spring 2019: Christiana McGrady
Office Hours: Tuesday, Thursday 2:15-3:15, by appointment
Office Hours are held in ICC 201
Contact the Ling Lab Assistant at linglab@georgetown.edu
Please note: Office hours are subject to change but can be verified on the Lab Calendar.
***IMPORTANT NOTICE FOR SEMESTER BREAKS***
Since there is no graduate student assistant on duty in the Linguistics Lab during the semester break, equipment cannot be checked out and no lab reservations can be added to the calendar. We apologize for any inconvenience this may cause you.
If you are a graduate student or faculty member and have a lab-related need during a semester break, please email Ling Lab Supervisor, Dr. Nycz.